Bike Week Daytona, March 4-13, 2016

Visit the official site for 75th Anniversary Bike Week, March 4-13, 2016 for special events and here for 2016 Bike Week Hotel Deals.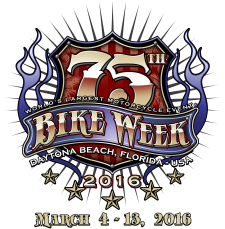 The 'World's Largest Motorcycle Event' is celebrating 75 years in 2016! Join over 500,000 motorcycle enthusiasts March 4-13, 2016 for Bike Week. Ride down historic Main Street and Beach Streets, along AIA or the Ormond Beach Scenic 'Loop'. This year's 10-day event proves it's high octane with street festivals, concerts, motorcycle races at Daytona International Speedway, bike shows, rallies, manufacturer showcases and more. We'll be celebrating at Bruce Rossmeyer's Destination Daytona, Riverfront Park in downtown Daytona Beach, and the U.S. 1 corridors in Daytona Beach and Ormond Beach and at 'The World Center of Racing'.